March 9, 2009 by Mike

Not a traditional dropshipper, World Wide Brands is actually a 'product sourcer', used to source products and dropshipping services all over the world, providing a powerful and useful service to the dropshipping market, which is always eager for new suppliers.
World Wide Brands was created by Chris Malta, author of 'What to Sell on eBay and Where to Get It'.  He has brought his knowledge of eBay and product sourcing skills together to create this service for dropshippers.
Products
As you would expect from a company called world wide brands the product range that the site sources is a very varied one, catering to many niches and markets.  The database provides you with access to over 3 million products by nearly 9000 wholesalers.
It also gives a number of its own, free information products on membership to, including ebooks, video tutorials, articles and the like.  A mine of information for any dropshipper.
Trust
As well as having a very recognizable name behind it in the form of Chris Malta, World Wide Brands also establishes trust as a member of the Better Business Bureau and being a eBay certified solutions provider.  Its online reputation is also what you would expect from such a trusted source.
Software
The software that the directory uses to help you find what you are looking for is award winning and intuitive, it will help you navigate the massive database with ease.
Finding Wholesale Products to Sell Online
by Worldwide Brands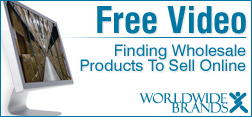 | | |
| --- | --- |
| | |